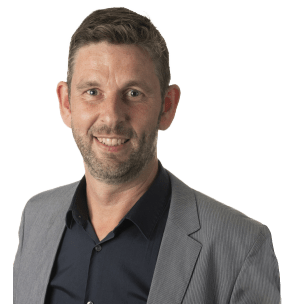 Professor in Geriatric Medicine, KU Leuven
(Co-)supervisor of ESR 7.
Dr. Jos Tournoy is a Doctor of Medicine, Consultant Geriatrician and holds a PhD in Biomedical Sciences. He was appointed as a staff Physician at the University Hospital of Zurich (Switzerland) from 2007 until 2009, after which he was appointed at the Geriatrics Department of the Leuven University Hospitals. He is an Associate Professor at the University of Leuven, Belgium,  where he heads the Division of Gerontology and Geriatrics. His main research interests include cognitive ageing and pharmacotherapy in old age. More specifically, he and his team have a special interest in optimizing medical-pharmaceutical care for older patients and installed a strong collaborating with the clinical pharmacy division headed by Profs. Isabel Spriet and Lorenz Van der Linden.  In his research and ongoing PhD projects, he identifies risk factors for polypharmacy and adverse drug outcomes in old age, investigates new medical-pharmaceutical models for a better integrated care, and recently started translational research on drug absorption in old age. Jos Tournoy is the supervisor of 6 PhD students and is (co-)author of over 170 publications, including 80 journal articles. He is president of the university fund for Gerontology and active in several scientific societies.  
currently 6 PhD students and 80 journal articles (on a total of 177 publications)
Van der Linden, L., Hias, J., Spriet, I., Walgraeve, K., Flamaing, J. and Tournoy, J. (2019) Medication review in older adults: Importance of time to benefit. AMERICAN JOURNAL OF HEALTH-SYSTEM PHARMACY, 76 (4), pp. 247-250. DOI:

10.1093/ajhp/zxy038

Van der Linden, L., Spriet, I. and Tournoy, J. (2018) Enough Power to Build a Strong Case for Clinical Pharmacy Services? JAMA Internal Medicine, 178 (6), pp. 864-865. DOI:
Van der Linden, L., Decoutere, L., Walgraeve, K., Milisen, K., Flamaing, J., Spriet, I. and Tournoy, J. (2017) Combined Use Of The Rationalization Of Home Medication By An Adjusted STOPP in Older Patients (RASP) List And A Pharmacist-Led Medication Review In Very Old Inpatients: Impact On Quality Of Prescribing And Clinical Outcome. Drugs & Aging, 473, ahead of print. DOI: 10.1007/s40266-016-0424-8
Van der Linden, L., Decoutere, L., Flamaing, J., Spriet, I., Willems, L., Milisen, K., Boonen, S. and Tournoy, J. (2014) Development and validation of the RASP list (Rationalization of Home Medication by an Adjusted STOPP list in Older Patients): A novel tool in the management of geriatric polypharmacy. European Geriatric Medicine, 5 (3, S1878764913009741) pp. 175-180. DOI: 10.1016/j.eurger.2013.12.005