AGePOP ESRs at conferences!
March was a really good month for AGePOP ESRs. Not only because of the beginning of the spring but also because in March, 4 ESRs participated in scientific conferences, across the world.
4th European Conference on Pharmaceutics
On 20-21 March 2023, Theodora Tzakri, Henriette Hummler and Dorota Sarwinska participated in the 4th European Conference on Pharmaceutics in Marseille. During these two days, the three young researchers learned a lot about drug delivery, advanced therapies, pharmaceutical manufacturing, in silico simulations, oral drug delivery, personalized medicine and much more! They met plenty of people from the pharmaceutical field including AGePOP supervisors Patrick Augustijns and Susanne Page. Young researchers had many interesting and inspiring conversations, which for sure will lead to more ideas to improve their research.
On the first day, Henriette and Dorota presented their projects during poster sessions. They had chances to have absorbing discussions with several people from academia as well as from the industry and answer their questions.
Henriette presenting her poster on Impact of size and shape of solid oral dosage forms on the preferences of older adults.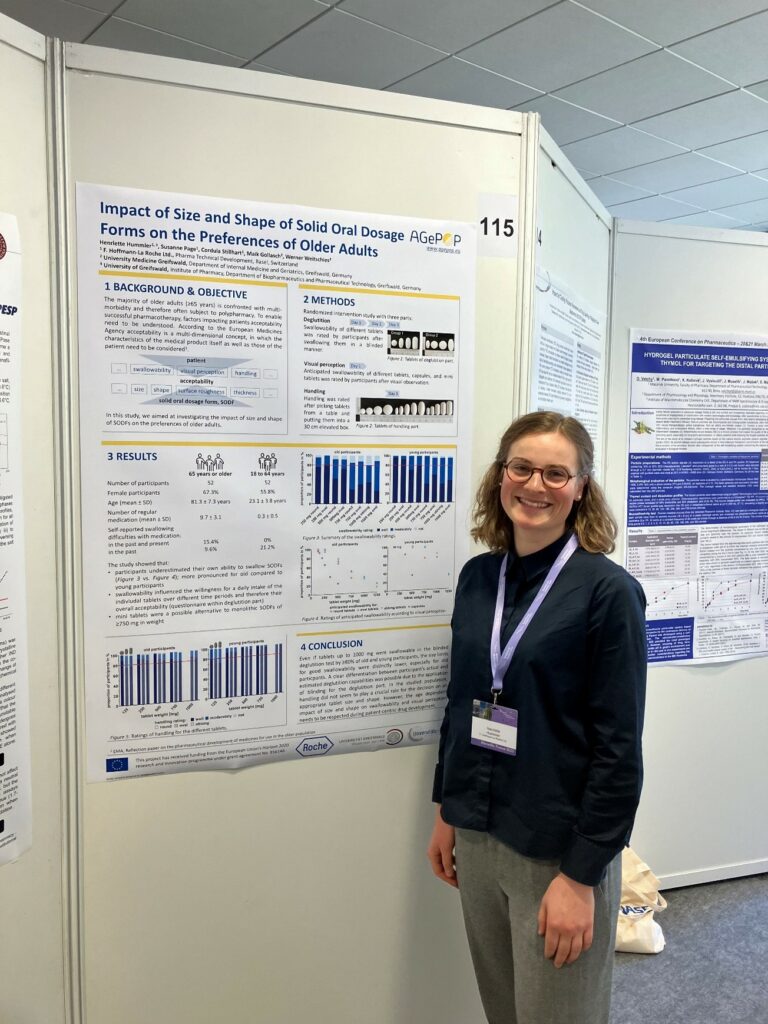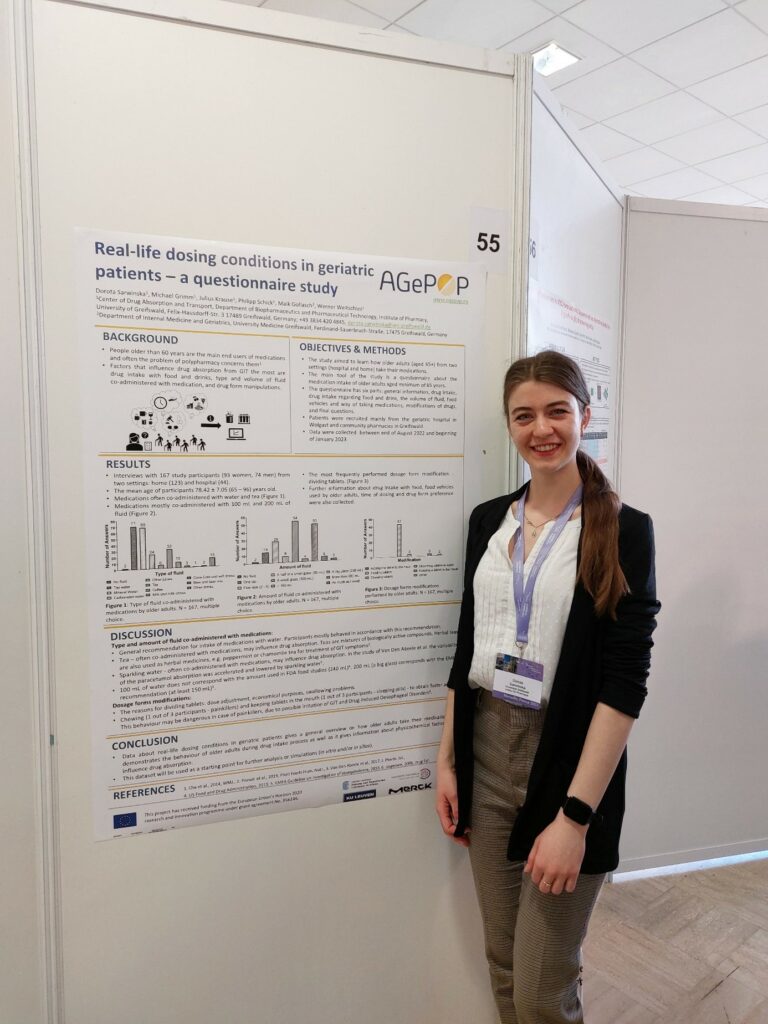 Real-life dosing conditions in geriatric patients – a questionnaire study summarized on a research poster by Dorota.
On the second day, Theodora presented her research during the short talk session. The presentation was a great chance to demonstrate her work to a large and international audience. After the presentation an engaging discussion took place between the audience, the panel members and Theodora.
Theodora presenting her research: Compression-coated tablet for the determination of gastric water emptying.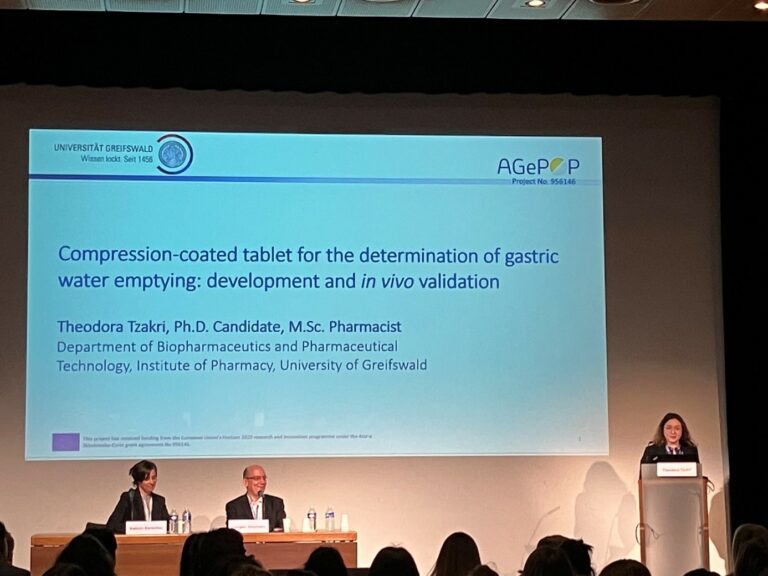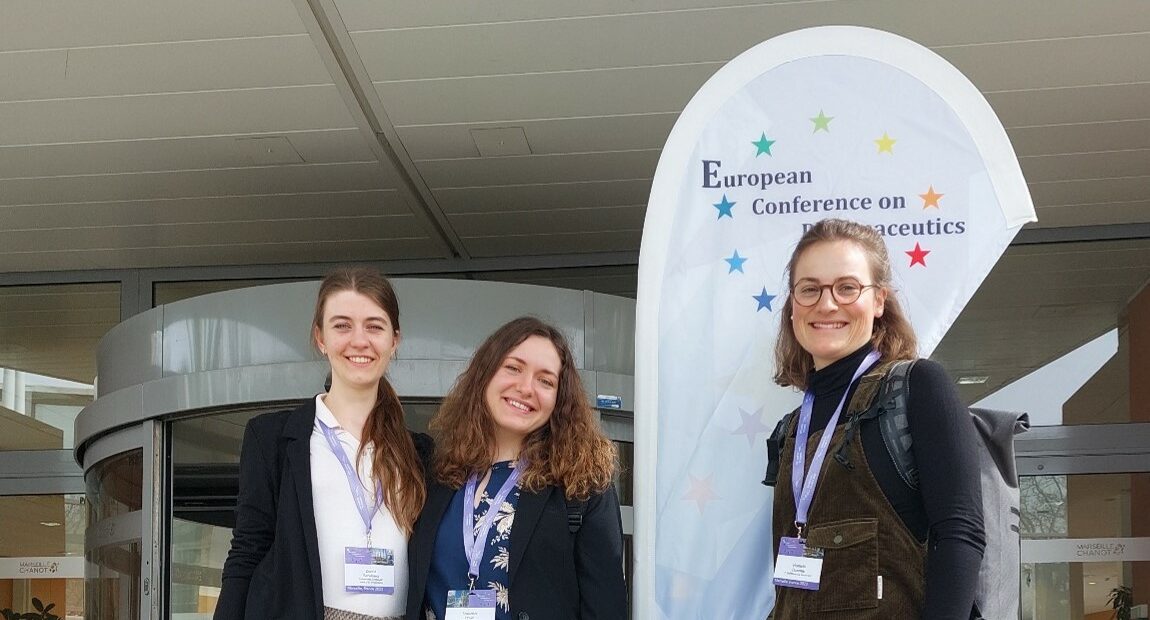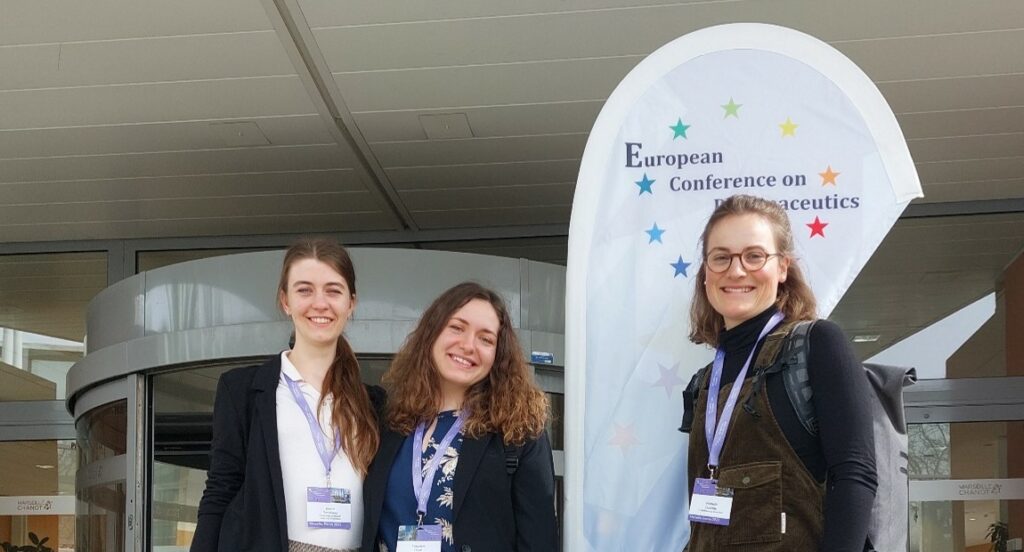 American Society of Clinical Pharmacology and Therapeutics (ASCPT) 2023 Annual Meeting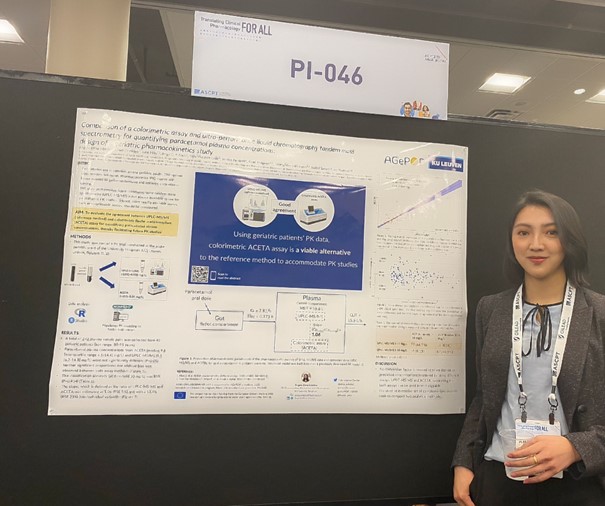 Elma with her poster "Comparison of a calorimetric assay and ultra performance liquid chromatography tandem mass spectrometry for quantifying paracetamol plasma concentrations: design of geriatric pharmacokinetics study"
We all had a really good time, learned a lot of new things and now will use this knowledge in practice!
See you soon and follow us on Twitter or LinkedIn to keep up with our latest conference contributions and publications.